R&M Stations
LTsER Montado network has 5 main research and monitoring stations (R&M) covering the range of climate and soil types of montado ecosystem. These conceptualize a socio-economic platform by representing different land-use regimes and desertification scenarios, therefore involving different pressures.
Herdade da Ribeira Abaixo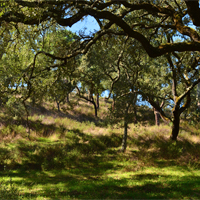 The Herdade da Ribeira a Baixo is located in Serra de Grândola in the south western part of Portugal. Owned by the Portuguese Agriculture Ministry, from 1996 onwards is also the field station of CE3C (Centre for Ecology, Evolution and Environmental Changes). The property has 221 ha, mainly cork oak montado. Nowadays it has low-intensity management, being shrub cutting and cork extraction the main interventions. It has been an important site for ecological research in montado ecosystem due to different studies done by the environmental biology students and researchers of
the Faculdade de Ciências da Universidade de Lisboa.
---
Companhia das Lezí­rias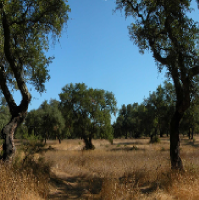 A
Companhia das Lezírias
is located in Benavente municipality, 50 km from Lisbon. The property was nationalized in 1975 and since 1989 is managed by a public limited company. It has 18000 ha, with manly cork oak montado (6.725 ha), rice fields, pine forests and vineyards. The main economic activities are forestry, cattle, wine and tourism. The Companhia das Lezírias forest management is certified according to Forest Stewardship Council (FSC) standards. Moreover it have been an example of good practices for sustainable development.
---
Herdade da Machuqueira do Grou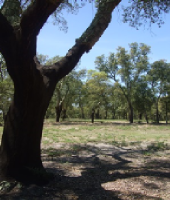 The Herdade da Machuqueira do Grou is located in Coruche municipality, 100 km northeast Lisbon. Is a Portuguese private property with 2500 ha dominated by cork oak montado. The main economic activities are forestry (e.g. cork extraction) and cattle. It has ongoing scientific projects, standing out the tower for carbon and water fluxes using eddy covariance method. Implemented in 2009, the tower is a project from
the Instituto Superior de Agronomia
/ Universidade de Lisboa in collaboration with other institutions.
---
Herdade da Coitadinha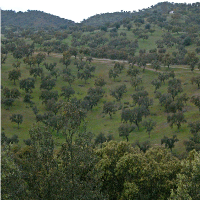 Herdade da Coitadinha (
Parque de Natureza de Noudar
) has 1000 ha is located near Barrancos village in the south eastern part of Portugal. Nowadays,
EDIA (Empresa de Desenvolvimento e Infra-estruturas do Alqueva, S.A.)
is the public limited company responsible for the management of the park. The acquisition of this property by EDIA occurred in 1992 as a compensation measure for the habitat loss caused by the construction of Alqueva dam, one of the biggest artificial lakes in Europe. The main economic activity is nature-based tourism, using innovative approaches to communicate natural values and conservation. Moreover, biological agriculture is also an economic profit in this property. The land cover is mainly holm oak montado.
---
Herdade da Contenda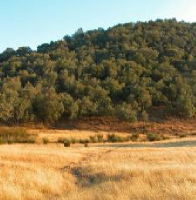 Located in Moura municipality,
Herdade da Contenda
is a Portuguese state-run property with 5270 ha. After 2012 the management of Herdade da Contenda was attributed to Herdade da Contenda, Empresa Municipal, which continues the management plan started by the Portuguese Institute of Nature Conservation and Forests (ICNF). The main activities are hunting, forestry and tourism. Herdade da Contenda has protocols with different entities (NGOs and private companies) for Iberian lynx reintroduction and conservation of black vultures. The land use is mainly holm oak montado and holm oak forests.
---